German Market E bike Industry Analysis
The rising oil price and the energy crisis have made the new energy travel mode – electric bicycle a hot topic. According to data, the global E bike industry market exceeded $36 billion in 2022, and by 2025, 10 million E-bikes will be sold worldwide. China, as a major exporter of bicycles, is the biggest beneficiary of this trend.
In 2022, the export volume of China's E-bike reached over 9.88 million vehicles, with a huge market demand and a high unit price, ranging from $1000 to $4000, which is definitely a major business opportunity for domestic merchants. The growth rate of the European market is astonishing, with a compound growth rate expected to exceed 20%. It is in a period of high-speed growth, led by Germany, France, Italy, and the Netherlands. Overall, the pricing of E-bike in Europe is concentrated between 259-4699 euros, with the largest consumer market in Germany.
What opportunities are facing the German E bike industry market? What are the market characteristics? What are the future development trends? To clarify these issues, we need to start by understanding the macro environment in Germany.
German E-bike macro environment
The preferred electric vehicle for Germans
Although it is a world-renowned automobile manufacturing country, Germans love cycling and can be called the "nation of cyclists". According to statistics, the population of Germany is about 82 million, and the number of bicycles owned is 81 million. Almost every German resident has a bicycle. In densely populated German cities, E-bikes are more widely used than electric cars. In both urban and rural areas, two-thirds of daily travel can be easily accomplished through bicycles or electric bicycles.
E-bike's exercise and entertainment attributes beyond short commuting give it a more popular chip than electric cars. However, Germany has a complex terrain with many mountains and slopes, and electric scooters powered by electric motors can provide consumers with a unique riding experience, which is highly welcomed by consumers.
In fact, not only Germany, but also Europe as a whole has shown a strong affinity for E-bike commuting. Owning an electric bike is as common as owning a second car in an American family. In 2022, Germany sold 2.2 million electric bicycles, accounting for 48% of the bicycle market share. The CEO of the German Bicycle Industry Association (ZIV) predicts that the unit sales of electric bicycles in Germany will surpass non motorized bicycles for the first time this year.
Bicycle friendly countries
According to EU Regulation 168/2013, electric powered bicycles with a motor power of no more than 250W and a assist speed of no more than 25 km/h (at which the motor stops assisting) belong to the L1e-A category and can refer to the loose management of ordinary bicycles. However, electric motorcycle without pedal belongs to L1e-B category, which requires a series of restrictions such as AM driving license and over 16 years old, which leads to E-bike being more popular in Europe than electric motorcycle.
The Germans originally rode bicycles to avoid traffic congestion. After developing over 200 long-distance bicycle routes throughout the country, Germany became a completely bicycle friendly country. Originally, a large number of infrastructure designed for bicycles were also friendly to E-bike, with bicycle lanes, bicycle parking lots, and other facilities providing assistance for the development of E-bike.
Strong cycling culture
The age distribution of cycling enthusiasts is also very broad, with an excellent mass base. Before the epidemic, Germans mostly commuted by car and rode bicycles for leisure.
However, after the epidemic, many European companies have abolished the rigid work shift system and switched to remote flexible office systems. Many Germans' activities have started to revolve around their homes, and driving to retail stores is purely overkill. Electric bicycles have become the best choice – convenient and flexible, with an aerobic workout and a photo taken and posted to advertise their status as "environmentalists".
According to data released by the German Federal Environment Agency, the per capita carbon emissions per mile of electric bicycles, cars, and buses are relatively strong: the per capita emissions of driving private cars are as high as 240 grams, while the per capita emissions of public transportation have decreased to 100 grams, while the carbon emissions of electric bicycles are only 5 grams. In Germany, which is very concerned about climate and carbon emissions issues, electric scooters are not only an economical choice, but also a manifestation of environmental ideology.
Characteristics of the German E-bike market
Germany is one of the leading regions in the European E bike industry, and the trend of new energy for transportation and travel is inevitable. E-bike is the most important development direction, mainly because German pedal assisted E-bikes do not require registration and licensing, and can be bought and used on the road, facing less regulation than other categories.
In addition, urban bicycles are the most commonly used and demanding bicycles, with their biggest advantages being faster commuting speed and more convenient parking in congested cities. Innovation in products and components, engineering, and design is a key driving force for the sustained growth of this market.
Overall, the German E bike industry market presents the following three characteristics:
High market demand growth
Germany's bicycle production reached a historic high in 2022, with a total of 2.6 million bicycles and electric bicycles produced. The production of bicycles remained flat (900000 units), while the production of electric bicycles continued to maintain a growth momentum, increasing by 20% to 1.72 million units. Sales peaked in 2022, reaching 2.2 million units (an increase of 10% compared to 2021), and supply exceeded demand.
In the longer term, data shows that the size of the German E-bike market has grown alarmingly fourfold in the past decade, from approximately 2 billion euros in 2012 to 7.36 billion euros in 2022.
Looking at the German bicycle and electric bicycle market, the German Bicycle Industry Association says it sees enormous potential. Not only is E-bike becoming increasingly expensive, customers also need higher quality components such as gears, brakes, tires, or lighting.
The brand pattern is relatively scattered
Although there are many bicycle manufacturers in Germany, and many bicycle manufacturers have started to enter E-bike, as an emerging race track, Germans have not yet formed an inherent brand awareness of E-bike. Many E-bike brands are still in competition, and small and medium-sized brands still have great opportunities.
The integration of the German electric bicycle market is moderate, with the top five companies accounting for 61.00%. The main participants include Cartrend GmbH (Fischer), GROUPE SPORTIF PTY LTD (Haibike), Kalkhoff Werke GmbH, MHW Bike House GmbH (Cube Bikes), and Prophet GmbH&Co. KG (arranged alphabetically).
Lack of local manufacturing
Although there are good brand manufacturers in Europe, there are only complete vehicle manufacturers on the manufacturing end, lacking production capacity for supporting components. Although there are tax thresholds, European manufacturers still have to import parts from Asian manufacturers such as China and Japan in production. Therefore, under the pressure of high tariffs, Chinese manufacturers have adopted a strategy of first transporting components overseas and then assembling and selling them to avoid tariffs.
Although Germany is also interested in making up for the shortcomings of its components and hopes to move towards "self-sufficiency", it is difficult to make up for the gap in the industry chain that has existed for many years. In particular, China continues to maintain a significant synergy and first mover advantage in the entire lithium battery industry chain. The electric power system of electric scooters is expected to continue to be dominated by Chinese manufacturers, so the development of the German E-bike market will continue to benefit China.
Development Trends of E-bike in Germany
Mountain cycling leads urban leisure off-road
In many reports found across borders, the prominent role of E-bike in leisure and tourism has been mentioned, mainly in the category of mountain bikes. According to a survey, the sales of mountain bikes in Germany in 2022 were 931600, of which 836000 were electric mountain bikes, accounting for about 90%.
In the winter of 2022, due to climate change, skiing tourism in Europe became extremely difficult, and the tourism industry began to search for new alternative solutions. Mountain bike tourism is one of the ways out, and electric mountain bikes have greater potential.
According to data from ebike24, due to the favor of buyers, electric mountain bikes have been leading the way for the second consecutive time with a growth rate of 23%. Now, with a gap of 10 percentage points and 14 percentage points respectively, it has left behind the most popular electric hiking bicycles and urban electric bicycles for a long time, becoming the best-selling segment of the electric bicycle group.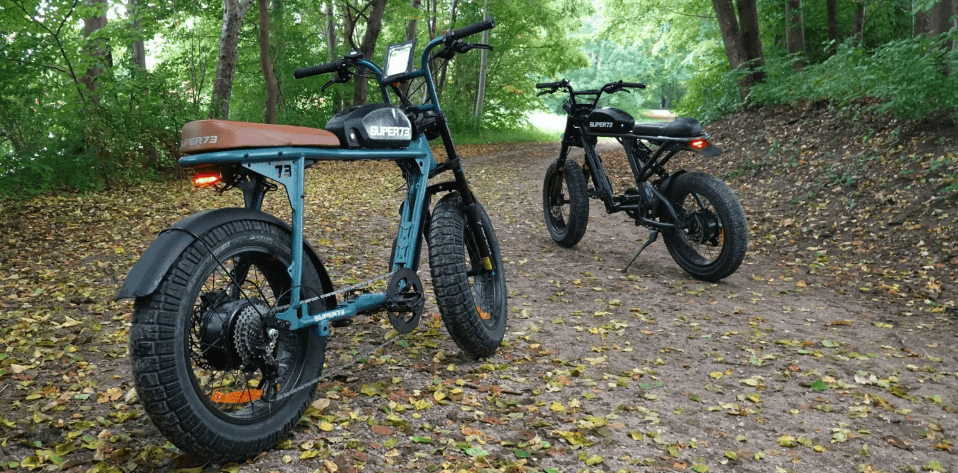 The wide tire E-bike has become popular in the entire E bike industry due to its inclusivity to various terrains, ultra-high balance and traction, superior shock absorption performance, and more durable characteristics than thin tires.
In addition, electric freight bicycles have also experienced significant growth, with sales increasing to 165000 units, an increase of 37.5%, driven by the demand for both private and commercial purposes.
A trend that disregards age:
Although European countries have serious aging problems, middle-aged and elderly people still have a great enthusiasm for bicycles. Electric scooters just make up for their lack of physical strength, allowing their cycling hobby to continue. Therefore, electric scooters have been widely welcomed. Moreover, the economic strength of middle-aged and elderly people is strong, and high priced electric scooters are not a big problem for them.
When these people purchase E-bikes, price is not the primary consideration. Expensive high-end E-bikes are more favored, with safety, portability, comfort, and intelligence being the primary considerations. After the shortage problem in the German supply chain was alleviated, the delivery time of regular E-bikes was shortened, but high-end E-bikes were still in short supply, with customer appointment periods of up to a year.
The Blue Ocean Turning Red
According to Grand View Search data, the global electric bicycle market size in 2021 was $17.83 billion, and it is expected that the compound annual growth rate (CAGR) from 2022 to 2030 will reach 13.5%. The penetration rate of E-bike in Europe is also increasing year by year. It is estimated that the penetration rate will increase to 42.6% by 2025, and the compound growth rate in the next few years will also maintain a high speed of 13.34%. Germany is the largest sales market in Europe, accounting for 34.5%.
Under the comprehensive influence of multiple factors, the deep blue market of European E-bike has formed, becoming a target market for many E-bike brands and attracting many Chinese E-bike brands. In 2022 alone, 30-40 E-bike brands have chosen to go overseas to Europe and America, and the blue ocean is dyeing red.
As more and more brands enter the market, the sales base of new energy vehicles and electric vehicles continues to grow, making it increasingly difficult to maintain high growth rates. The sales growth rate of electric vehicles in Germany is also gradually slowing down, and introducing mainstream models to the public has become the key to competition.
On the other hand, as subsidies continue to decline and new production capacity continues to be added, various links in the industrial chain are under pressure to reduce prices, exacerbating the price war in the industrial chain; Overseas competitors are also accelerating their layout, with domestic manufacturers in Germany experiencing a 20% increase in production, reaching a historic high and bringing new impacts to overseas merchants.
Greensky Power Co., Ltd. is a professional manufacturer engaged in the research, development, production, sale of E bike controller.
If you are searching E bike controller for your project, please contact our sales team.