Top 10 Bearing Companies in World
▶ The full name of SKF is "Svenska Kullager Fabriken", which is transliterated as "Svenska Kullager Fabriken" in Chinese
The headquarters of the company is located in Gothenburg, Sweden
Established in 1907
Founder: Sven Wingquist
Production enterprises: 105
Number of employees: approximately 38748
Number of companies: approximately 150
President and CEO: Tom Johnstone
SKF bearings entered China as early as 1912 and now have multiple authorized SKF distributors, agents, and distributors in China.
SKF's position in the world manufacturing industry: the world's largest bearing manufacturer; SKF bearing production accounts for 20% of the total global production of similar products.
▶ SKF Product Introduction
SKF provides over 20000 types of standard products for various bearings. In addition to rolling bearings, SKF Group also manufactures linear bearings, sliding bearings, bearing boxes, ball and roller screws, textile machinery components, retaining rings, machine tools, and various precision mechanical components. Having gained extensive experience in the aforementioned fields, I possess indispensable knowledge and expertise in the development, manufacturing, and application of various advanced engineering products.
The smaller ones are like miniature bearings weighing only 0.003 grams, and the larger ones are like giant bearings weighing 34 tons per piece. In addition, SKF also provides a series of bearing maintenance tools, grease, and bearing monitoring instruments (SKF bearing heaters, pullers, etc.), in order to enable bearing users to achieve higher efficiency and worry free operation.
SKF bearing feature product Explorer Explorer series bearings, which have better performance and longer lifespan than any other brand of bearings currently on the market. They excel in design and use, and are the result of years of careful research by many top scientists and engineering teams at SKF Engineering and Research Center in the Netherlands, SKF Explorer bearings can be identified by the word "EXPLORER" engraved on the outer ring side of the bearing and the "EXPLORER" logo on the packaging box, but the product number remains unchanged.

▶ Full name of FAG: Fischer Aktien Gesellschaft
In 2001, it was acquired by INA Bearing Company and is now part of Schaeffler Group in Germany
Headquarters location: Schweinfurt Industrial Zone, Bavaria, Germany
Established in 1883
Founder: Friedrich Fischer, inventor of the ball mill
Total number of employees of Schaeffler Group: 66000
FAG Bearing China Co., Ltd. now has multiple authorized agents, distributors, distributors, and offices across the country.
FAG's position in the world manufacturing industry: it is the world's first bearing manufacturer and the founder of the rolling bearing manufacturing industry.
▶ FAG bearing characteristics
High reliability, small size, high load-bearing capacity, high-precision guidance, low friction, high temperature resistance, low wear, easy installation, low lubricant consumption, small maintenance, easy procurement, and high cost performance ratio. Widely used in various industries, where other brands of bearings are not competent, their representative products include high-speed and high-precision spindle bearings, with a limit speed higher than any other brand. And this excellent characteristic is generally reflected in all FAG bearings, which have high ultimate speed and bearing capacity.
FAG bearings are a professional manufacturer of high-precision precision bearings, renowned for their high precision and sharpness worldwide. Their products are mainly used in machine tool spindles and other industry fields, especially the cutting-edge bearing products represented by Schaeffler's new X-life bearings, which are characterized by high speed, high precision, and high service life, and are renowned worldwide.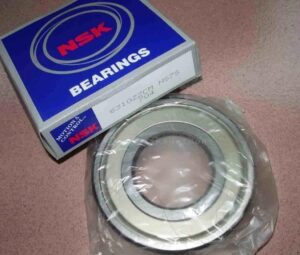 ▶ NSK LTD
Headquarters location: Osaki, Shinagawa ku, Tokyo, Japan
Established in 1916
Representative of the President of the Banned Service: Asaka Saiichi
Currently, NSK has established sales networks in over 20 countries and regions worldwide, and has over 50 production and manufacturing factories.
Total number of employees of Ensk Group: over 23000
Ensk (China) Sales Co., Ltd. now has multiple authorized agents, distributors, and representative offices across the country.
NSK's position in the world manufacturing industry: Japan's largest bearing manufacturer, the world's second largest bearing manufacturer, with product sales accounting for approximately 13% of the global market share.
▶ Introduction to NSK Bearing Characteristics
NSK's main product, bearings, is the foundation of the mechanical industry and is known as the "grain of the mechanical industry"; It can effectively ensure the quality of all industrial products; NSK's advanced rotation technology and high-precision positioning technology ensure the absolute reliability of the product in the "sub micron" range. The 'Operation&Control' pursued by NSK continuously improves the efficiency of rotation and operation through endless exploration of friction phenomena, with the aim of contributing to global scale energy-saving movements and resource protection.
NSK bearing characteristic product: NSK high-precision bearing series, which uses NSK company's long life bearing steel (Z steel), vacuum refined steel (VAR steel), and ultra long life, high reliability bearing steel (EP steel) as materials. Through excellent precision machining technology, it has made great contributions to improving the performance of machinery used in various industries, and also contributes to energy conservation and resource conservation.
For example, the TAC02 and TAC03 series of thrust angular contact ball bearings are used for the support of ball screw in electric injection molding machines, the TAC B series of high-precision thrust angular contact ball bearings are used for precision screw support, and the NSK double row cylindrical roller bearings are used for high-speed and high rigidity machine tool spindles.

▶ NTN Bearing Company of Japan – NTN Co., Ltd
Established in 1918
Headquarters location: West District, Osaka City, Japan
Number of employees: over 12000
We have established research and development institutions or production bases in 12 countries and regions including Germany, the United States, France, Canada, Australia, Singapore, and South Korea. Japanese NTN has established joint ventures in Guangzhou, Shanghai, and Zhejiang since 2002.
NTN industry status: one of the three major bearing enterprises in Japan; One of the world's top 5 comprehensive bearing manufacturers.
▶ Introduction to NTN Bearing Characteristics
NTN's precision machining technology and unique proprietary technology have been accumulated and developed on the basis of long-term development of bearings, and are now widely used in the production of precision machinery for use in all fields. This is a new symbol of NTN's development that continuously creates new value.
NTN bearings are various products produced using high-precision processing and testing technology in units of 0.01 micrometers. From ordinary household appliances that require both high performance and low cost, to aerospace rockets that require normal bearing functions in harsh working environments, NTN bearings have laid the foundation for the development of various industries and machinery for various purposes.

▶ TIMKEN bearing, also known as Timken bearing
The headquarters of the company is located in Canton, Ohio, USA
Founder: Henry Timken
Established in 1899
Number of employees: approximately 27000
Enterprise scale: 66 factories in 27 countries
105 sales representative offices, authorized agent distributors, customer service centers, and distribution agencies. In 2003, Timken completed the acquisition of Torrington Bearing Company, building a complete product line for Timken, Torrington, and Fafnir, further consolidating and strengthening its leading position in the global bearing manufacturing industry.
TIMKEN's position in the world manufacturing industry:
The world's third largest bearing manufacturer; The largest bearing manufacturer in North America;
The world's largest manufacturer of tapered roller bearings;
A leading global manufacturer of needle roller bearings (referring to its Torrington Bearing Company).
▶ TIMKEN Product Introduction
TIMKEN bearing applications: In automotive, railway, steel, machine tools, aircraft, engineering machinery, agriculture, and other industrial fields, from disk drives to drilling rigs, from dental drills to rolling mill bearings, as long as there are wheels or shafts rotating, TIMKEN products can improve their performance. As the slogan of Timken Company, "Where You Turn" has long been familiar to Chinese users and recognized by world-class manufacturing companies such as Boeing. He is a leading manufacturer of advanced engineering bearings and alloy steel in the world. TIMKEN steel is one of the world's highest quality clean steel, and Timken bearings can perform well even in the harshest environments, thanks to its unique raw material TIMKEN bearing steel.

▶ The full name of IKO bearings in Japan is Innovation, Know now, and Originality, which means "innovation, technology, creativity"
Established in 1950
Headquarters location: Tokyo, Japan
IKO industry position: Japan's largest needle roller bearing manufacturing enterprise; One of the world's three largest manufacturers of needle roller bearings.
▶ Introduction to IKO Bearing Characteristics
IKO bearing is a registered trademark of NIPPON THOMPSON CO., LTD in Japan. It is an industrial accessory manufacturer guided by technology and development. It is a professional bearing manufacturer specializing in producing needle roller bearings and linear guide rails, and enjoys a high reputation worldwide. It is the manufacturer with the longest history, the most complete variety, and the highest level of specialization in producing needle roller bearings in Japan. Its products are widely used in machine tools and other industries.

▶ KOYO Bearing Guangyang Seiko Co., Ltd., founded in 1921 in Japan, has 6557 employees and is affiliated with JTEKT Group Company.
We have eight main production factories in Japan, including Tokyo, Nara, Yinda, Toyoshi, Takamatsu, Tokushima, and Kamiyama. We also boast several production bases and research institutions in Europe, Asia, and North and South America overseas.
▶ Introduction to KOYO Bearing Characteristics
Japan's Guangyang Seiko Corporation produces tens of thousands of high-precision and high-quality KOYO bearing series products, providing information on aerospace technology, computer components, motors, high-speed trains, MRT trains, industrial machinery, CNC lathes, high-precision machining machines, automotive and locomotive industries, and steel industries Make the best choice for important components.
Guangyang Bearing Industry Status: It is a research and development comprehensive functional product manufacturing company, one of the four major bearing production groups in Japan, with world-class production and control equipment.

▶ NACHI Fujitsu Bearing Company, Japan
Company name: NACHI, a trademark of Fujitsu Corporation
Establishment date: December 21, 1928
Capital: 13.3 billion yen
Number of group companies: 48, 28 in Japan, and 20 overseas.
The number of employees in the group is over 5000.
▶ Introduction to the Characteristics of NACHI Bearings
Bu Er Yue Bearing adheres to the business philosophy of "contributing to the development of the manufacturing industry" and has three major mechanical manufacturing industries, including mechanical tools, functional components, and materials. After 75 years of development, we have continuously combined various core technologies to promote research and development. At present, the company's main products include cutting tools, machine tools, bearings, hydraulic equipment, robots for automated production, special steel, ultra precision machinery and environmental systems for the IT industry. The headquarters of Bu Er Yue Company is located in Toyama, Japan, and also has production bases in North America, South America, Europe, and Asia.
It has established permanent representative offices and sales outlets worldwide, which can quickly and accurately grasp market trends and effectively meet customer wishes.
NACHI company focuses on creating the Quest series of high-performance and high-precision bearings, especially represented by ball screw support bearings. This product uses unique raw materials, heat treatment, and processing technology. In order to meet the market's demand for high-quality and diversified bearings, Nachi products have advantages such as high speed, high load, good durability, low torque, energy saving, low noise, low vibration, and self-lubrication.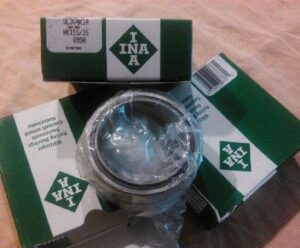 ▶ Uze INA bearing (Yina bearing)
Headquarters: Herzogenaurach, near Nuremberg, Germany
Established in 1946
Founder: Dr. George Schaeffler, the developer of the combination technology of rolling needles and cages
Now, together with FAG Bearing Company, it is under the Schaeffler KG group in Germany.
Since its establishment, the company has become a world leader in the field of needle roller bearings and quickly expanded from the original needle roller bearing field to a wide range of products. At present, INA Bearing Group in Germany has more than 30 production plants and more than 30000 employees, covering various parts of the world.
▶ INA Bearing Product Series
Various types of needle bearings, needle rollers, inner rings, and cage components; Support and curved rollers; Various types of short cylindrical bearings; Bearing with seat; Thrust bearing; Clutch bearing; Combined centripetal thrust bearing; Fully loaded cylindrical roller bearings; Linear and guide rail bearings for various purposes; Special bearings for textile machinery, etc
▶ Uze INA bearing (Yina bearing)
Founded in 1919, RBC Bearing Inc (open in new tab) was formerly known as Roller Bearing Company of American (Roller Bearing Co., Ltd.) in New Jersey, USA. It mainly manufactures various bearings and related products.
In 1990, RBC acquired California-based Industrial Construction Bearings (ITB) who was established in 1955. ITB manufactures a complete range of thin-walled ball bearings, which are high-precision bearings, often made of special materials. It helped RBC successfully enter the aerospace and defense industry market, winning huge profits.
RBC's main products include: ball bearings, end rod bearings, roller bearings, ball screws, thin-walled ball bearings, spherical plain bearings, tapered roller bearings and tapered roller thrust bearings, airframe control bearings, self-lubricating plane bearings and special bearings. These bearings are mainly used in aerospace, military technology, mining, transportation, packaging, robotics, semiconductor processing equipment, construction machinery and other fields.
Conclusion
This post has walked you through the top 10 bearing companies in world from some aspects. There are still some bearing companies who are larger or stronger than some of these bearing companies listed here. There are thousands of bearing manufacturers across the world. Different companies have different strategic positioning and advantages.