Aventon collaborates with electronic control system
expert Greensky to develop a more intelligent and comfortable electronic control system.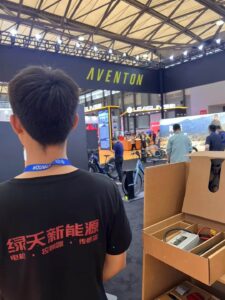 Aventon, the Leading US E-bike Brand, Collaborates with Greensky, an Electronic Control Expert, to Develop a Smarter and More Comfortable E-control System
In an exciting partnership, Aventon, the renowned leader in the US E-bike market, has joined forces with Greensky, a expert in electronic control systems, to create an innovative and advanced E-control system. This collaboration aims to enhance the intelligence and comfort of electric bicycles, providing riders with an exceptional riding experience.
Aventon has established itself as a frontrunner in the E-bike industry, known for its commitment to quality, performance, and cutting-edge designs. With a wide range of electric bikes catering to various riding styles and preferences, Aventon has garnered a loyal customer base and a reputation for excellence.
Greensky, on the other hand, is a recognized expert in electronic control systems, specializing in the development of intelligent solutions for various applications. Leveraging their expertise in motor control, power management, and connectivity, Greensky has become a trusted partner for companies seeking to optimize the performance and efficiency of their electric systems.
The collaboration between Aventon and Greensky aims to leverage the strengths of both companies, combining Aventon's expertise in E-bike design and Greensky's proficiency in electronic control systems. The primary objective is to develop an E-control system that offers enhanced intelligence and comfort to riders, elevating the overall riding experience.
The new E-control system being developed will incorporate advanced features such as intelligent motor control, intuitive user interfaces, and connectivity options. By integrating smart algorithms and sensors, the system will optimize power delivery, improve energy efficiency, and enhance the overall performance of the electric bikes. Riders can expect smoother acceleration, more precise control, and seamless transitions between power assist levels.
In addition to performance enhancements, the collaboration also focuses on rider comfort and convenience. The E-control system will feature intuitive interfaces, including user-friendly displays and ergonomic control units, enabling riders to easily adjust settings and monitor essential information while on the go. Furthermore, connectivity capabilities will enable seamless integration with mobile applications, allowing riders to access additional features and personalized settings.
The partnership between Aventon and Greensky signifies a shared vision of pushing the boundaries of E-bike technology and delivering an unparalleled riding experience to customers. Both companies are committed to innovation, quality, and customer satisfaction, making this collaboration a significant step forward in advancing the E-bike industry.
As the development of the new E-control system progresses, Aventon and Greensky will conduct rigorous testing and quality assurance procedures to ensure that the final product meets the highest standards of performance, reliability, and safety. Customers can rest assured that the resulting E-bikes will embody the exceptional craftsmanship and attention to detail that both Aventon and Greensky are known for.
In conclusion, the collaboration between Aventon and Greensky represents an exciting endeavor to create a smarter and more comfortable E-control system for electric bicycles. With their combined expertise, these industry leaders are poised to revolutionize the E-bike experience, offering riders enhanced intelligence, seamless control, and unprecedented levels of comfort. Stay tuned for further updates on this groundbreaking partnership and the forthcoming E-control system from Aventon and Greensky.
For more information about Aventon and their range of E-bikes, visit Aventon. To learn more about Greensky and their electronic control expertise, visit Grensky.